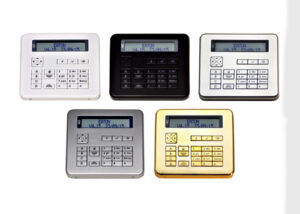 Eaton has launched a flush keypad, the KEY-FKPZ, for security systems in the commercial and residential sectors offering both aesthetics and a simple installation.
"Alongside our existing range of keypads, there is often a requirement for particular premises to have an even more aesthetically pleasing security keypad solution that does not detract from the smooth surface of the wall," said Tony Walsh, vice president of engineering and security product line leader at Eaton. "We have been creative in how we have overcome the challenge of low profile and ease of installation."
The flush keypad is designed to fit a single-gang back box and is available in five colour finishes, polished chrome, brushed chrome, brass, piano black and high-gloss white. In addition, the KEY-FKPZ range of keypads is compatible with the range of i-on and Menvier panels and uses software version 4.04 and higher. Unlike some flush products, which require the installer to make large holes in the wall, the new KEY-FKPZ can be fitted as a standard installation, enabling minimal disruption to the building's interior design and a smooth mounting.
"It's all about meeting the customers' style preferences as closely as possible," said Glenn Foot, security products technical manager for Eaton. "The homeowner can match the colour of the keypad to the finish and the aesthetics of their property."
The KEY-FKPZ keypads include an LCD display and key backlighting. Once mounted, the navigation key provides easy access for the installer to configure, and the user to set and unset the security system. As an additional feature, the keypad menu allows the installer to turn the status LED on or off.
The keypad's two zone inputs expand the installation options and provide flexibility for wiring additional zones. An integrated proximity tag reader is included with terminals for two fully supervised loop (FSL) zones or one four-wire closed circuit loop (CC) zone, which also has a programmable output and loudspeaker connections.