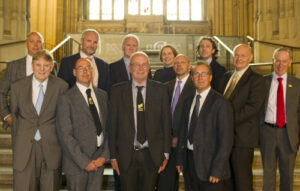 Eight years after Gate Safe, the charity established to drive awareness of the required safety protocols associated with automated gates, took its campaign to Downing Street – the organisation has returned to Westminster to meet with key stakeholders to discuss future initiatives designed to improve the safety of automated gates in the UK.
The Westminster Round Table, held in the Palace of Westminster, was chaired by Gate Safe's Patron, Madeleine Moon MP and included representatives from Gate Safe's supporters: The Electrical Contractor's Association; Electrotechnical Certification Scheme / Joint Industry Board; The Institution of Occupational Safety and Health; RoSPA; The Association of Fencing Industries; Chartered Trading Standards Institute and Handsam. Also in attendance were the HSE and representatives from the automated gate installer community.
The meeting focused on the need to address the number of automated gate accidents / fatalities which continue to occur in the UK, largely due to the fact that, especially domestic client, remain ignorant of their responsibility to specify a safe gate. This view is borne out by a recent survey undertaken by Gate Safe which analysed how people are searching for a company when considering an automated gate purchase – which demonstrated that price was deemed to be the over-riding motivator – twice as important as the safety of the gate.
Commenting on the meeting, Gate Safe Founder Richard Jackson said, "We've definitely come a long way since we started Gate Safe and now have a register of nearly 1400 Gate Safe Aware accredited installers in the field who have undergone the requisite training to help deliver a safe and compliant automated gate / barrier installation for a customer. However, we are still seeing far too many accidents as a result of an unsafe automated gate and with this type of equipment on the increase, especially in new builds and schools, action must be taken. Automated gates are classed as machines and as such, any client – domestic or commercial – who chooses to install a powered gate MUST be aware of the need not just to have the gate installed correctly but also for it to be regularly maintained.  Aside from the moral obligations of trying to avoid an accident, there is now a legal precedent that shows the tough line that the courts are taking if they identify any sign of negligence in the chain of professionals who may be associated with an automated gate installation. For Gate Safe, it is refreshing to see that so many of those professional organisations who have endorsed the work that Gate Safe does, are around the table today, allowing us to work in partnership to tackle this important safety issue."
Gate Safe and its stakeholders agreed a number of actions, which with the help of Madeleine Moon MP, will ensure that automated gate safety will enjoy a heightened profile in the future.