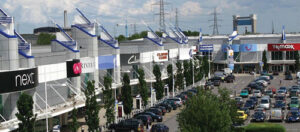 Gallions Reach is the largest Shopping Park in London, set on a 65 acre site with 325,000 square feet of retail space. Each year more than six million shoppers visit the shopping park so with these visitor numbers, security and safety is of paramount importance.
As part of a programme of upgrades to Gallions Reach, centre manager Arnold Catterall recognised that there was a need to address the Shopping Park's aging CCTV system: "The system we had in place was aged and had numerous incompatible additions," he says. "We required a system that would serve the owners, retailers and customers in maintaining a safe and secure environment, and with the planned changes to the park, also one that was future-proof."
Pacific's William Mesher explains: "When we first looked at the existing system, half of it wasn't functioning, the video quality was really quite bad, and there issues with cameras disconnecting from the system. We spoke with Arnold and agreed that what was required was an upgrade which would allow them to record HD 1080 quality video using their existing analogue cable infrastructure."
"For this project, we wanted to provide the Gallions Reach security team with 1080p HD images and Hikvision's Turbo products made perfect sense as they could utilise the existing analogue cabling network and still record high resolution pictures. At the same time, their IP connectivity allows the cameras to be connected to an Ethernet network."
Forty-one Hikvision cameras were installed, both externally to cover car parking areas, and internally for shopfronts and office spaces. The cameras include the DS-2AE7230TI- A PTZ model, which utilises HD-TVI transmission technology and up to 30x optical zoom to provide HD 1080p images to the control room. To cover exteriors and car parks, Pacific used DS-2CE56D1T-VPIR vandal-proof dome cameras. These 2MP cameras provide HD 1080p resolution images and true day/night capabilities, with infrared coverage up to 20m from the camera. Three dedicated 16 channel DS-7316HQHI-F4/N Turbo DVRs record the HD images, and the pictures are monitored 24-hours a day by an onsite security team.
"We used a Hikvision DS-6900UDI decoder to provide HD 1080p images to two 42-inch and four 22-inch monitors," Mesher says. "The operators are equipped with DS-1600KI touchscreen network keyboards, which allow them to view and manipulate images."