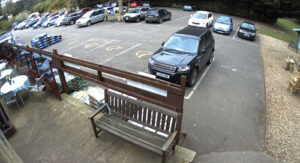 Mobotix Partner Switchnet Systems has completed an installation at a garden centre that combines video surveillance, day-night operation, number plate recognition and analytics to secure the site and enhance management visibility.
Vanstone Park Garden Centre is a family run business in Hertfordshire. Having experienced several break-ins over the years which were not properly captured by its aging analogue CCTV system, owner Giles Groom approached Switchnet Systems for advice.
"Our old system was nearly 15 years old, offered poor quality images and was starting to experience more failures," explains Giles "Our aim with the upgrade was to not only improve security for our site, staff and visitors but also potentially improve the way in which we run our business through better visibility."
Switchnet Systems came up with a solution that would both reduce the number of physical cameras along with discrete hemispheric models able to cover larger areas in better resolution both day and night. The complete system also provides number plate recognition for identifying vehicles entering the site.
In total, Switchnet Systems via their distribution partner NBM Technology, supplied and installed ten cameras to provide complete coverage of all public accessible indoor and outdoor areas along with main entrance, car park and key perimeter areas. The system uses the decentralised Mobotix architecture to allow all video to be stored on a single Synology NAS server and viewed from any location.
The system includes MxActivitySensor 2.0, a video motion analysis integrated into each camera that detects moving objects and does not trigger in the event of interference such as rain, snowfall or moving trees or poles. The centre also benefits from the Mobotix mobile application which allows senior managers to check any camera remotely via a smartphone or tablet in the event of an issue or alarm.
"The new system is perfect for what we need and provides us with great image quality without loads of obtrusive cameras or the need for a dedicated control room," says Giles.