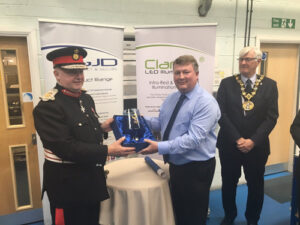 GJD was honoured with a visit from Warren J. Smith, HM Lord-Lieutenant of Greater Manchester recently to present the Queen's Award for Enterprise, International Trade. The Mayor of Rochdale and other guests were also in attendance to celebrate the special occasion.
After initial introductions, the guests were given a guided tour of the offices and manufacturing facilities by Mark Tibbenham, GJD's Managing Director and John Hale who is GJD's Operations Director.
The tour gave the guests an opportunity to witness the company's manufacturing processes first-hand including seeing finished products.
After the tour the Lord-Lieutenant presented the crystal bowl commemorative item to Chris Moore, GJD's Technical Director who is one of the longest serving staff members. The citation (scroll) was presented to Irene Newberry who has worked in the Assembly department at GJD for 28 years and June Allen who has worked in the Soldering area at GJD for 27 years. Irene and June are retiring in the summer, so they were really pleased to be presented with the scroll.
Mark Tibbenham said: "It was a great honour to welcome the Lord-Lieutenant to our business to present this prestigious award. On behalf of all at GJD I would like to thank the Lord-Lieutenant for making this an extremely enjoyable and memorable day. Receiving the Queen's Awards for Enterprise is a fantastic achievement for everyone at GJD. It is amazing recognition and high praise for all of our staff who always put in so much hard work and dedication to make the company what it is today".
GJD was one of only 102 companies in the UK to achieve the accolade for International Trade. GJD was honoured with this award owing to the company's growth and success in export trade over the past six years.