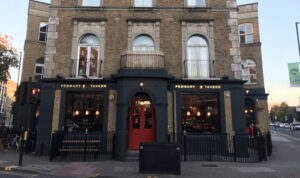 Delta Security is helping to protect patrons, staff and property at Hackney's Pembury Tavern with the installation of a new security system including an IP-based CCTV solution, roller shutters and new locks.
The pub, recently re-opened by Craft Brewers the Five Points Brewery, had been under the previous owners' management for twelve years. After a full refurbishment, the security system required upgrading.
Delta Security specified a solution that includes 12 IP-based cameras located in the pub's public, staff and external areas, all linked to a digital network storage device that can be accessed remotely. The locks were replaced with a convenient system that means multiple locks can be operated with just two keys, and the new roller shutter provides an extra layer of security for the building's exterior.
Pete Walker, General Manager at the Pembury Tavern, says: "The CCTV system provides clear, high quality images and I am pleased not to carry a large bunch of keys around!"