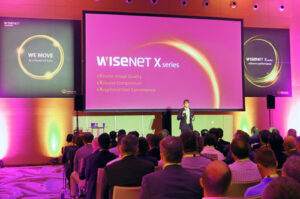 Over 200 delegates who attended the Hanwha Techwin Wisenet conference held in Barcelona earlier this month heard Managing Director Bob (H.Y.) Hwang Ph.D. announce the introduction of enhanced warranty support for Hanwha Techwin STEP Partners.
The W hotel on the Barcelona seafront was the grand location for the 2017 Hanwha Techwin Wisenet conference where European partners, guests and company representatives got the manufacturer's latest camera and business news during a packed day in March.
It's not often that announcements at press conferences draw gasps and spontaneous applause but at the conference there was a point during the presentation by European Marketing Manager Justin Hollis that raised considerable audible approval. While discussing the benefits of the STEP membership program, which provides partners using Hanwha Techwin products with advantages and benefits, Justin announced that with immediate effect, Silver, Gold and Diamond level STEP partners will benefit from a five-year warranty program that covers parts and labour on all of the company's IP cameras and NVRs, with the exception of zoom/focus functionality, pan/tilt motor assemblies, slip-rings and HDDs, which will remain at three years. That, said Justin, is a real benefit that he'd not heard the like of from any other manufacturer and the audience seemed to agree.
Explaining the thinking behind the warranties, Bob Hwang said: "We have decided to reward the loyalty of our STEP partners by providing them with an additional competitive edge in the form of improved warranty terms, which they can offer their end-user clients. This further demonstrates our confidence in the robustness of our products and is just one of many ways in which we are striving to build a reputation for being a brand that can be entrusted to be the single source provider of high performance end-to-end video surveillance solutions."
New Wisenet X
The afternoon presentations focused on the new product ranges from Hanwha plus the announcement of the new Wisenet 5 chipset. This job fell to the company's Head of Product Management, Tim Biddulph, who took the audience through the various developments such as the new Wisenet X series of 26 new cameras in 2 and 5 megapixel, with H.265 transmission. Tim and the team demonstrated how the all-new architecture chipset built into Wisenet X cameras delivers video performance in a demo room where delegates were shown how they and their clients could utilise features including WDR without blurring, low light performance, reduced bandwidth requirements by up to 99% with Wisestream II and gyro sensors for more accurate stabilisation to combat wind and vibrations. (For more information see the review of the event in the April 2017 edition of PSI magazine.)
UK roadshows
For those in the UK who want to catch up with all the latest developments Hanwha Techwin has announced a series of roadshows taking place during April and May 2017 at venues in Birmingham, Glasgow, London and Manchester.
"The roadshows will provide an opportunity to show how, by innovating and thinking outside the box, we are well placed to be a single source provider of high performance, robust and reliable video surveillance solutions," said Chris Parry, Country Manager – UK & Ireland for Hanwha Techwin Europe. "Equally important, the roadshows will allow us to move closer together with our customers so that we can listen to their needs and continue to respond to changing market requirements."
Roadshow dates:
Birmingham    25th April, 2017    National Conference Centre
London           9th May, 2017       Brooklands Museum, Weybridge
Manchester    11th May, 2017     Mere Golf Resort, Knutsford
Glasgow         17th May, 2017     Westerwood Hotel & Golf Resort
Security professionals who wish to attend one of the events can register here