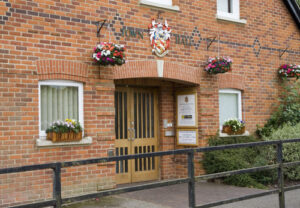 Amthal has installed a front door entry system at Harpenden Town Council offices that interfaces with a new phone system, to create a more efficient access process and smart security solution for the benefit of staff and visitors.
Harpenden Town Council, which represents the largest parish in the St Albans District, aims to work closely with the community to promote the area as a place to live, a place to work, a place to invest and a place to visit.
Operating from Harpenden Town Hall, the Council originally sourced Amthal to install an internal access control system to ensure the security of all who work and visit the office building. The installed technology was a BPT vandal resistant door entry system that interfaced into the Council's analogue trunk port via a IT200 unit.
With the installation of a new cloud based telephone system, the Council once again called on the services of Amthal to recommend a compatible front door intercom system to ensure the efficient running of the office and welcome facilities for visitors.
Carl Cheevers, Town Clerk at Harpenden Town Council said: "Harpenden Town Hall aims to deliver a 'one stop shop' information point for the wealth of services available in our community.  With this in mind it is essential our offices present a welcoming environment for all visitors, but this must be created without compromising on high quality protection for all our staff on site."
David Williamson, Account Manager at Amthal added: "Harpenden Town Council like every local authority has a duty of care to its workforce as well as its community, and must continue to consider ways to ensure their continued safety and security whilst at work."