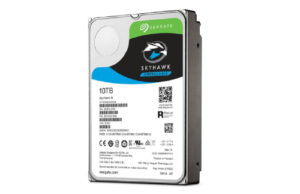 Seagate Technology has announced the availability of SkyHawk AI hard disk drive (HDD), a drive created specifically for artificial intelligence (AI) enabled video surveillance solutions.
Analytics on video surveillance hardware is growing exponentially, forecasted to increase from 27.6 million shipments in 2016 to 126 million shipments in 2021 (Cropley, 2017), as hardware manufacturers continue to include analytics sensors on NVRs. This will only increase as AI – particularly deep learning and machine learning applications, such as facial recognition and analysing irregularities in behaviour – become increasingly prevalent. In parallel, the need for fast video analytics will continue to rise, increasing the workload burden on NVR storage.
"The use of AI technology in surveillance is steadily increasing – both in the edge and backend installations such as retail fronts and large city traffic management," said Sai Varanasi, vice president product line management at Seagate Technology. "We are excited to introduce smart, purpose-built SkyHawk AI solutions that expand the design space for our customers and partners, allowing them to implement next-generation deep learning and video analytics applications."
SkyHawk AI has been developed for intensive computational workloads that typically accompany AI work streams, as its high throughput and enhanced caching deliver low latency and random read performance to quickly locate and deliver video images and footage analysis. This enables on-the-edge decision making, eliminating the latency of exchanging cloud-based data and processing. Equipped with Seagate ImagePerfect AI firmware, the drive records sharp video footage with no dropped frames, while simultaneously facilitating AI-enabled NVR analytics – ensuring that intelligence gathered through video surveillance footage is not lost.