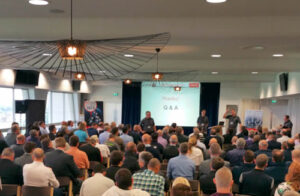 Hikvision is set to tour the UK and Ireland for its Spring 2017 Roadshow with the theme "Innovating technology, partnering for success". The roadshow will take place from the 7th till the 23rd of March in five locations including Dublin, Glasgow, Manchester, Birmingham and London.
Designed to demonstrate technological advancements from Hikvision the roadshow will be demonstrating a host of solutions including 4K and H.265+ surveillance cameras and recorders, the Hikvision 24MP PanoVu, Thermal Imaging Solutions, and Number Plate Recognition technology.
Hands-on demonstrations, presentations and Q&As from Hikvision's experts will cover topics including:
Corporate update from Hikvision UK & Ireland
The benefits of IP 3.0, 4K and H.265+
Maximising analogue networks with Turbo 4.0
New technology from Hikvision for 2017
Andy Keeley, Marketing Manager, Hikvision UK and Ireland comments: "Our aim is to provide installers and systems integrators with the information and training of Hikvision products they need to implement tailored video surveillance solutions for their clients."
The Spring Roadshow will showcase a number of technology partnerships. Seagate will demonstrate its latest HDD technology, Pyronix will explain its advances in intrusion detection technology, and Wavestore will show how its flexible Video Management Software integrates with the Hikvision range.
All roadshow events are free of charge for installers and systems integrators and the first 100 people who attend at each venue that have pre-registered for the show will receive a free Hikvision 2MP Turret camera with inbuilt DarkFighter ultra-low light technology.
The events will be at the following locations throughout March.
Dublin                   7 March 2017                    Croke Park Stadium
Glasgow               14 March 2017                   The Westerwood Hotel & Golf Resort
Manchester        16 March 2017                    Etihad Stadium
Birmingham        21 March 2017                   National Motorcycle Museum
London                 23 March 2017                   Twickenham Stadium
Register here