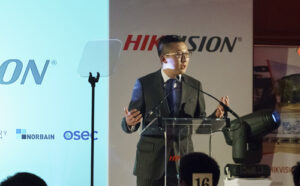 Hikvision hosted its first Value Added Solution Partner (VASP) Day, which saw more than 140 guests recognised for their ongoing support.
The VASP Partner Day was designed to demonstrate how much the company appreciates its partners and their contribution to the video surveillance industry. The event included technology presentations as well as live demonstrations of Hikvision's video intercom, thermal camera series, marine grade anti-corrosion technology amongst others. It was designed to give VASP partners a preview of Hikvision's latest products.
VASP partners and distributors gathered at the event for a tour of the new Hikvision office in Stockley Park. The VASP Partner Day awards ceremony took place at the Radisson Blu Edwardian. For VASP partners' outstanding achievement in 2016, Hikvision awarded ten "Silver", five "Gold" and five "Platinum" VASP of the year awards. Hikvision also presented four distributor awards for their ongoing support to Hikvision customers.
UK GM, Hikvision, Jason Yang (pictured) commented: "It was a delight to host this event. We truly appreciate our partnerships with both VASP partners and distributors and do not underestimate how working together contributes to our collected success within the video surveillance industry."