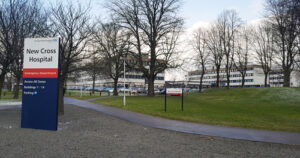 A Wisenet hybrid recording solution has been installed at New Cross Hospital, Wolverhampton by JKE Security.
"The medium term objective is to provide the hospital with a complete end-to-end Wisenet solution incorporating the latest video surveillance technology," said Dan Mather, director of Derby based JKE Security. "However, New Cross Hospital is not alone in having to carefully manage its budgets and with this is mind, the priority has been to install a hybrid recording solution which comprises a combination of HD+ and NVRs."
New Cross Hospital provides 700 beds, employs almost 9500 staff and is the largest teaching hospital in the Black Country.A total of 17 recording devices have been installed. These include four Wisenet 32 channel XRN -2010 NVRs which each have 21 Terabytes of on-board storage and 13 x Wisenet HD+ 16 channel SRD-1694 DVRs, each with 5 Terabytes of storage. Using AHD technology, the Wisenet HD+ DVRs are able to record high definition images transmitted over the hospital's existing coax cabling.
"An important aspect of this project is that the Royal Wolverhampton Hospitals NHS Trust wanted a recording solution which would be totally compliant with the new GDPR data protection regulations," said Dan Mather. "Having taken advice from Midwich, the distribution company which we source our video surveillance products from, and having attended a three-day training course conducted by Hanwha Techwin, we had the confidence to recommend the Wisenet hybrid recording solution to the Trust both in terms of its compliance.
"Having successfully completed the first phase of the upgrade, we are looking forward to installing over 200 x Wisenet cameras throughout the hospital in the near future in order to provide security personnel and the hospital's managers with a powerful tool to maintain a safe and secure environments for doctors, nurses, administration staff and patients."
Paul Smith, Trust Security Manager and Local Security Management Specialist said "We looked long and hard for a suitable solution of integrating our older systems with newer IP systems on the site. For us the best option came in the form of the Wisenet software and recording units and for the first time in years we are now able to view our entire system on one platform, and a platform that is functional and easy to operate. All of our pre-existing cameras have been synced with the new software with the assistance of JKE Security. I look forward now to the next stage which will be to replace end of life cameras for the much more technologically advanced kit, which will enable us to use the smarter functions of the Wisenet software."