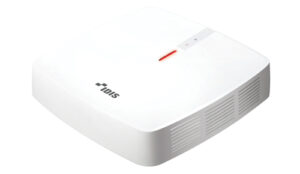 IDIS has launched is latest network video recorder, the DR-1204P, which supports up to 5MP high definition (HD) recording and one month's footage retention and utilises IDIS Intelligent Codec reportedly delivering savings on bandwidth and storage particularly when used with Motion Adaptive Transmission (MAT), in areas where there is little to no motion and out of hours.
The new 4-channel NVR also comes with cost-free video management software (VMS), IDIS Center and mobile apps—meaning no licensing costs without any ongoing service or maintenance fees.
Dr Peter Kim, Senior Director at IDIS, said: "Ideally suited for small and medium-sized environments—the small form factor and low-noise operation make the NVR compatible with even residential settings—the DR-1204P provides a truly plug-and-play way to gain the complement of features and benefits offered by IDIS's DirectIP technology, without the costs and complications of an overdesigned solution for a limited need."
The DR-1204P has a future-proof scalability meaning that customers can add more IDIS NVRs and cameras so that the whole system is easily expandable for future surveillance upgrades.