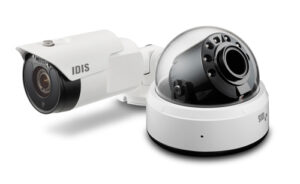 A range of 2MP cameras has been launched by IDIS for applications that surveillance quality within a tighter budget.
The new "value" range includes both full HD dome and bullet cameras and still comes with features including analytics, night time image capture, protection against image data loss as well as dual codec combined with IDIS Intelligent Codec to deliver bandwidth and storage savings.
Other features built into the new range include IDIS Smart Failover as well as video motion detection, active tampering alarm and trip zone analytics which, according to the company, are not normally found at this price point. The cameras also boast IR image capture and True Wide Dynamic Range (WDR) in varied lighting conditions.
Users can benefit from savings in storage, with IDIS Intelligent Codec dual H.264/H.265 technology reportedly delivering up to 90% reduction in bandwidth demand without any need to upgrade existing monitors and hardware.
And for integrators, the cameras have been developed with ease-of-installation as a priority. The 3-axis mechanical design ensures more flexibility in mounting, and faster system set-up is achieved using DirectIP NVRs and PoE.
"Up until now customers have often only used Failover technology on the most critical cameras, because of the requirement for additional kit and the associated extra cost," says Harry Kwon, General Manager of IDIS Middle East and Africa. "However, with this new range they can extend Failover protection system-wide, with high quality video capture now an affordable option across all cameras."