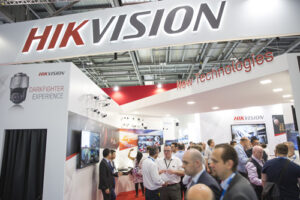 Hikvision the supplier of innovative video surveillance products and solutions, exhibited the latest in surveillance technology at IFSEC International 2017 
The theme of the Hikvision stand was pioneering AI Technology for the video surveillance market. Extremely popular at the show due to this being new to the industry, deep learning is the next level of AI development. It is beyond machine learning where supervised classification of features and patterns are set into algorithms.
Deep learning incorporates unsupervised or "self-learning" principles. Hikvision is developing this concept in its own analytics algorithms. Enhanced accuracy is the result of multi-layer learning and extensive data collection. Application of this algorithm into face recognition, vehicle recognition, human recognition, and other platforms will significantly advance the performance of analytics. .
Also popular on the Hikvision stand was the new DarkFighter X low-light camera range which gives daylight style pictures from completely dark scenes. The series includes a PTZ and bullet camera. Both come with optical defog, 25X optical zoom, 2MP resolution and smart detection. They also boast the new H.265+ codec and are weatherproof to IP66 standard.
According to Andy Keeley, Marketing Manager at Hikvision, "Our analogue technology (Turbo 4.0) attracted lots of attention from visitors and our IP range was of interest to installers and integrators."
The first Turbo HD 4.0 products to hit the market include 8 megapixel box and varifocal bullet cameras, and DVRs with 4K UHD HDMI outputs. The 8MP cameras offer the highest resolution ever available in an analog surveillance system. Models equipped with Hikvision-patented Power over Coax 2.0 (PoC) capabilities also allow users to transmit both UHD video and power over the same coaxial cable, for faster, simpler and less expensive installations using existing infrastructure.