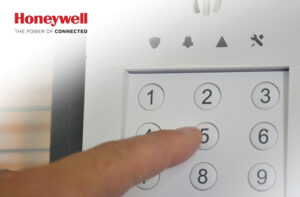 Mick Goodfellow, GM EMEA, Commercial Security EMEA, Honeywell Home and Building Technologies spoke to PSI magazine about a busy event in 2017
IFSEC is always a key event in the calendar for us, and this year was no exception. We announced a number of new products at this year's show, including developments in intelligent video surveillance, analytics software, and advanced fire detection along with new solutions for the connected home. It was a very busy few days!
It was especially exciting for us to be there with our newest brands, Xtralis and RSI Videofied. Having a stand at IFSEC was a great opportunity for us to demonstrate how our brands and product lines can integrate together to deliver industry-leading Honeywell solutions.
Integration and connectivity were very popular topics for us on the stand. As the connected ecosystem continues to grow, people want more from their security systems. Whether it's CCTV, access control, intrusion, or fire and safety, businesses expect all their systems to work together seamlessly and ensure security staff are kept informed, 24/7. The same is true in the residential market, where consumers expect to be able to control various technologies in their homes with the swipe of a smartphone. This increased demand for integration and connectivity was obvious in the many offerings and announcements we saw at the show. The Honeywell stand at IFSEC was designed to showcase this greater potential for smart, connected technology and bring it to life.
For example, smart technologies, like Honeywell's new IP cameras and Xtralis IntrusionTrace analytics uses connectivity to generate and analyse vast amounts of data in real-time, enabling business owners to make quicker, more informed decisions about how to most effectively protect their buildings and property. Residential security systems are experiencing a similar shift, and so the new Total Connect Box was also on display at the show.  Total Connect Box is a new professionally-installed, self-monitored wireless security system that allows homeowners to view their homes live anytime, day or night, to meet this growing demand for more flexible security offerings.
Integration and connectivity were just some of the many interesting conversations we had during the show. We look forward to continuing these discussions in the weeks to come!