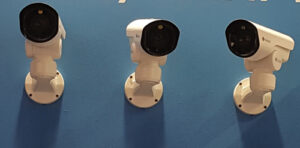 With intuitive, must-have functionality and superior image quality, new Mini PTZ Bullet was a major attraction on the Milesight stand at IFSEC 2017
The Mini PTZ Bullet offers many benefits to installers and end users including fast, precise movement of up to 360° pan and 75° tilt, 255 pre-sets and 8 patrol routes, all which can be set up as specific tasks by date and time if required.
We caught up with Dave Watkins of UK distributor ACAM Technology to find out about the reaction to the new camera.
How was the show for you?
"It was a very successful event for us. We introduced a couple of new products, but in particular the PTZ bullet was very popular. It fills a niche that gives you the functionality and usability of a PTZ. It's a lot neater and smaller with some tremendous features of its own and the cost saving over an equivalent PTZ is quite considerable."
What are the main features of the camera?
"The camera comes with all of the standard Milesight features such as excellent low-light capability and high light compensation so we can get very good number plate recognition in low light. The camera has Starlight, so if the user does not want to use the IR (which work up to 60m) you can turn it off and still get a very good colour picture in low light. Plus it comes with the added feature of a white LED that can be set on a time schedule or intrusion alarm either remotely or through motion detection, to come on so it is aid for a colour picture or flashes as a deterrent to intruders.
"The camera also has 3D tracking so you can set up regions of interest to zoom into, a 12x lens and it comes in 2MP and 5MP versions.
"So far we have supplied them into unmanned sites with remote monitoring and it is proving to be very popular and it was certainly our key product at IFSEC this year."