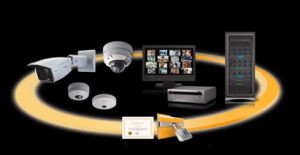 Panasonic took a new approach to exhibiting at IFSEC by focusing on more than just new products. After the event we spoke to Karen Sangha, Regional Marketing Manager at Panasonic Security Solutions:
How was the show for you?
"Trade shows, such as IFSEC, have historically tended to be about companies introducing the latest products. This "here's our new box" approach inevitably pushes sales conversations towards speeds and feeds.
"This year, we took a very different approach, by asking our integrators, partners and customers to consider the total cost of ownership of the security systems that they're suggesting, specifying and installing for end users.
"We introduced a total cost of ownership calculator, which took account of some of the original technology embedded within Panasonic technology such as smart coding, which goes a huge way to improve data efficiencies, dehumidification and rain water coating, which reduces maintenance costs and even cyber security which poses an unquantifiable risk to businesses not properly protected.
"This meant the show was very different to our presence at IFSEC in previous years. We engaged in some very interesting conversations with our integrators and end users within our dedicated meeting space, where we also held lunch-and-learn sessions on topics such as cyber secure CCTV and Intelligent Auto, a function which ensures high quality images regardless of the environmental conditions."
What was the most popular product/topic of conversation on your stand?
"We ran two talks in our meeting space about cyber security, in particular the threat posed by IP-connected CCTV networks that are either completely unsecured or have a low level of security, perhaps relying on widely-known default passwords. They resonated really well with the audience and were strongly attended.
"We had a number of high-profile examples of recent security breaches, and followed up by showing how manufacturers can help address these kinds of problems. CCTV security remains a huge vulnerability for many businesses. While organisations maintain high levels of security in IT systems, many fail to recognise the risk of unprotected CCTV systems on an IP network, which can offer an easy way to access the rest of the corporate network."