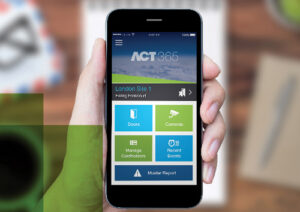 At IFSEC 2017 Vanderbilt demonstrated its strength in cloud technology which can vastly improve integration and management
SPC Connect and ACT365 were prominent features at Vanderbilt's stand E1225. After the show we caught up with Marketing Manager Kim Loy to find out how the crowds reacted to the innovations:
How was the show for you?
"We've seen some quality visits and lots of end users – over 50%, which is great for pull business.  This year we changed the layout of our stand so we have concentrated on vertical market sectors and we have focussed on integrated solutions rather than individual products, so demonstrating how our access, intrusion & video can all work together."
What was the most popular product/topic of conversation on your stand?
"Our focus was on cloud-based security solutions which give users access to true and deep integration of core security functions such as access control, intrusion and video.  Some of our competitors have been working with the cloud for over 10 years now, but have struggled with it because the security market has been sceptical about having their security in the cloud.  However, I believe it is finally starting to gain momentum in this arena because customers have more confidence in it.
"Following the acquisition of Dublin based ACT last year, we are integrating the ACT portfolio into the Vanderbilt product offering and the star of this year's show was the ACT365 access control and video management platform, which offers remote setup, servicing and support via the Cloud. Interestingly this product has also been very recently installed to provide a sophisticated court booking system for a tennis club – so our installers are finding that it has opened up opportunities for them over and above the usual security applications.
"Our other product highlight this year was SPC Connect, a future-proof solution that enables installers to monitor, manage, and maintain Vanderbilt's SPC panels remotely from any PC, tablet or smartphone.  This technology will save installers from physically visiting a customer site – potentially saving them many hours of travelling time and expense, and we think it will prove to be very popular. It's also a great tool for end users, because they can monitor their own premises with their phone or tablet."