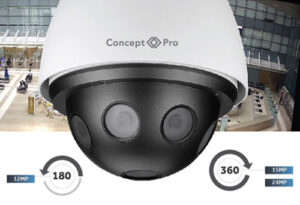 Trade shows can be hectic and tiring (and hot) which is why plenty of people had a well-earned pint at the Installer World Bar and Beer Garden sponsored by Videcon at IFSEC
When the hustle and bustle of a trade show becomes too much the temptation of a refreshing drink is difficult to resist. At the Installer World Bar, security installers were invited for a drink on Videcon – and plenty of people took up the offer as Mike Reddington, MD of Videcon explains:
How has the show been for you being sponsors of the Installer World Bar?
It was actually really well received by our existing customers and visitors. The bar was an environment where they could relax with a drink and have a discussion about their business and learn about Videcon and our latest products.
Which cameras in particular caught the eye?
One of the new products we launched at the show was the OPSES which is either a 12MP 180°, 15MP 360° or 24MP 360° camera. The reaction to this camera was tremendous particularly because of the flexibility of the system; you can have the camera replacing multiple cameras in existing sites or not having the need for many cameras in new premises with just one unit.
People responded well to the Installer World Bar environment, in that they stayed for a really good conversation about commercial opportunities and they felt comfortable in such surroundings.
Are you looking at doing something similar next year?
We are exploring the idea, taking on board what we have experienced this year. For example we would like to take the Bar further into the centre of the hall to allow more people to access it. We would also need to expand the area because at peak times we were very busy, which I was delighted to see.