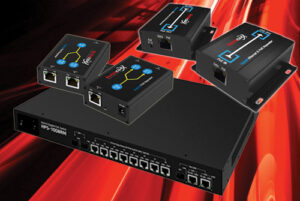 Intercoax will be launching new Ethernet transmission products at IFSEC 2018.
For video, data and power transmission applications up to 2.4Kms, the new range of Intercoax managed multiport long range Ethernet switches permit the use of any type of coax or UTP/twisted pair cable, and include up to 60W PoE budget/port.
The new HPS-1008RM 19″ rack mountable 8+2 port Gigabit Hybrid PoE Switch can be used to transmit 1Gbps Ethernet and support PoE+ (up to 25.5W).
Using the new HP-01 (2 Port Hybrid PoE Switch), 100Mbps Ethernet transmission and PoE+ power support up to 250m transmission along with the connection of multiple devices in cascade mode.  Featuring built-in standard PSE and the over current protection, the device supplies secured PoE+ power up to 25.5W/port.
The device's NMS (Network Management System) featuring a browser-based GUI and management software allows the remote monitoring and management of multiple hybrid PoE switches.
The new EPR-1001 (Gigabit Ethernet and PoE+ repeater) overcomes the 100m max distance limitation of standard network configuration. For greater distances, the devices can be added by daisy chaining (up to 750m) for easy IP extension. The device is an easy installation solution for all kinds of PoE (IEEE802.3af), PoE+ (IEEE802.3at) compliant devices, and offers installers high power PoE (up to 60W) outputs using a 56VDC/1.2A power supply.
Stand C522