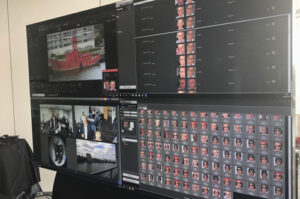 At this year's IFSEC, Panasonic introduced three new products to its security line-up, which included, Panasonic's new face server technology, its multi-sensor camera and its new Video Insight 7 VMS platform.
What captured the most attention at the show, was Panasonic's demonstration of its new deep learning facial recognition technology, which successfully maintained a 100% matching record with no mismatches across the three days of IFSEC.
Over 1,500 different successful matches were made – including people wearing fake mustaches, dark glasses and hats – to pre-registered faces in the system.
Panasonic also hosted three Brunch and Learn sessions every day of IFSEC 2018, which covered topics such as video management, facial recognition and cyber security.
"These Brunch and Learn sessions resonated really well with the audience and were strongly attended across the three days," says Karen Sangha, Regional Marketing Manager at Panasonic Security Solutions. "We found the attendees showed particular interest in Wednesday's session, which drew attention to the use of ethical hacking and how to mitigate the risk of cyber-attacks on security surveillance systems, using Panasonic Secure Communications."
Panasonic's Video Insight (VI) end-to-end VMS solution also proved very popular, as it presented how the solution eliminates OPEX costs with no ongoing licence fees. An affordable and flexible end-to-end solution, VI has the ability to support devices from over 150 manufacturers.