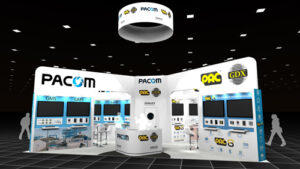 Stanley Product and Technology will be showcasing its PACOM and PAC GDX brands at IFSEC 2018.
On the stand, visitors will be able to find out more about the PACOM range of products including the Graphical Management System (GMS), which is engineered to communicate over an IP network and has technology tailored specifically for multi-site environments.
The PACOM GMS allows the integration of access control, alarm monitoring, video surveillance and other security services. To show its flexibility and functionality, RightCrowd's automated workflow management software and EyeLocks' iris-based identity authentication products will be integrated into the GMS platform and demonstrated on the stand.
Alongside the PACOM GMS will be PACOM Unison, an open and integrated security management platform that enables the management of access control, intrusion detection, fire detection, intercom and video from one single user interface.
Taking centre stage for PAC GDX will be PAC8, a simple solution that can be remotely configured via Apple iOS or Google Android smart devices, and provides end users with complete flexibility in terms of how they operate the system.
Alongside PAC8 will be PAC's SecureNet integrated security software solution, which is easily configured to operate on a standalone PC or across a corporate network displaying detailed, real time events information including alarms as they occur across the facility. It boasts the ability to monitor alarm points, control elevators, manage fire doors or control IP based CCTV cameras.
Visitors will also be able to see a preview of GDX7 SIP, which can be provided with a Windows-based concierge function and enables management of multiple buildings over a large area.  It can also be used to manage local alarms that are reported both locally and at the concierge.
Stand F222