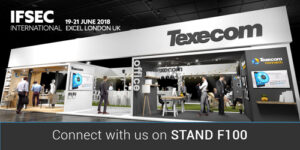 Texecom opens a new world of possibilities from professional alarm systems
At IFSEC 2018, the Texecom stand will feature live demonstrations of Texecom security systems in both commercial and residential scenarios, showcasing how intruder alarm systems can add value every day and defeat the 'grudge purchase' mentality.
Building automation with Texecom Connect
Texecom Connect puts users in control of building automation. From checking that appliances are turned off to receiving notifications when children come home, it personalises how people automate their homes and buildings. It adds value to security systems by delivering the features and benefits that end users are demanding, giving them the flexibility and freedom to enjoy an interactive and positive experience.
Perimeter security & Safety Devices
Ricochet-enabled perimeter security systems offer real peace of mind by putting off an intruder – whether an opportunist or a planned break-in attempt – before they get near the property. Texecom's Ricochet mesh technology also allows installers to offer commercial-grade, wireless carbon monoxide (CO) and smoke detectors.
Cloud Services
Texecom will also be demonstrating how cloud-based installer management tools can deliver operational efficiencies and increased value to installers and end-users alike.
Adding value, increasing the bottom line
Texecom offers installers the added-value benefits that end users are demanding. Whether it's automation, cameras, perimeter security, safety devices and aesthetic upgrades like metal keypads, installers and integrators can up-sell and offer systems that don't feel like a grudge purchase but instead add real value – to their customers and to their bottom line.
Stand F100