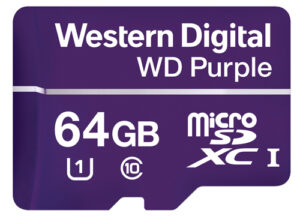 Western Digital Corporation is a data technology company which provides a variety of data solutions, purpose-built for today's surveillance needs.
As the adoption of 4K Ultra HD video, emerging AI applications and analytics drive the rapid growth and evolution of data in surveillance, the company is committed to providing the best solutions to handle surveillance data. Whether it's a business employing surveillance video to keep their assets secure or a retailer utilising surveillance to accurately analyse shopping behaviour through video facial recognition, capturing and assessing every moment is critical.
Western Digital's surveillance solutions can be split into three categories: capturing data; analysing data; and edge systems. For capturing, the company provides the WD Purple™ Surveillance HDD for high-capacity support for NVRs and DVRs. Built for 24/7, always-on, high-definition security systems. With a supported workload rate of up to 180 TB/yr and support for up to 64 cameras, WD Purple drives are optimised for high-intensity surveillance systems and their demands.
For analysing the data captured, the Ultrastar® HDD series for use in back-end servers performing surveillance analytics. Optimised to deliver the highest capacity at low total cost of ownership (TCO), the Ultrastar Hs14 provides unprecedented capacity leadership, delivering efficiency, quality and reliable performance required by cloud and hyperscale datacentres.
Recently Western Digital unveiled the WD Purple microSD™ card, a high-endurance card which can continuously record for up to two years, can endure temperatures from -25°C to 85°C, and card health monitoring capabilities which notifies when it's time to service the card. This card is a great fit for cameras and other edge devices.
Stand E200