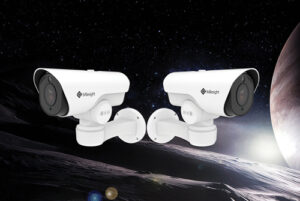 Milesight have never shied away from pushing the boundaries of technology and their new Mini PTZ Bullet addition is a case in point. With intuitive, must-have functionality and superior image quality, it's set of incredibly powerful features can be compared to a Speed Dome but at a fraction of the cost.
The Mini PTZ Bullet offers fast & precise movement of, up to 360° pan, and 75° tilt, 255 pre-sets and 8 patrol routes, all which can be set up as specific tasks by date & time if required.
A 12x optical zoom lens allows detailed, high-quality close-ups even in low light environments using its revolutionary Hi Speed Auto-Focusing, reducing delays in refocusing when repositioning the Camera.
Smart dot matrix IR LEDs with a fixed angle of 60° guarantee excellent image quality, long lifespan and energy efficiency. The IR anti-reflection panel results in optimum efficiency of the inbuilt IR leds.
An Intelligent White LED with a 15° viewing angle, can be turned on as a supplementary light source, to give an enhanced colour image. It also can be programmed to flash on receipt of an Alarm signal providing a deterrent to possible intruders.
User Friendly 3D Positioning makes any position of interest become the centre of the current monitored area. Highly sensitive Motion detection can provide instant repositioning to give a clear detailed image within a pre-set target area.
A revolutionary screw-in vent exhausts moisture, equalizes pressure and reduces condensation in the sealed enclosure; resulting in improved reliability, increased safety and longer product-life.
Discover the full capabilities of the Mini PTZ Bullet on Stand F375