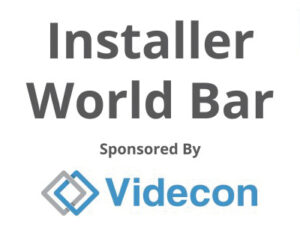 Trade shows can be hectic and tiring, why not take a break and come have a well-earned pint at the Installer World Bar and Beer Garden sponsored by Videcon.
When the hustle and bustle of a trade show becomes too much the temptation of a refreshing drink is difficult to resist. At the Installer World bar, all security installers are invited for a drink on Videcon so why not come down and have a catch-up with our team in a relaxed setting! With new releases like Sequrinet and Opses hitting the market, this is a perfect opportunity to come and ask Videcon questions face to face about products and features existing and new.
Not only are we offering a range of drinks to security installers, Videcon will be presenting and demonstrating the latest addition to the famed Concept Pro range. The Opses Multi-View camera offers an unparalleled level of surveillance through its 360˚ stitching of CCTV footage to create and record imagery; this is a great opportunity to get up close and personal with one of Videcon's most groundbreaking products and put any questions to the Videcon team.
With cyber-security at the highest level of risk ever experienced, it is vital that adequate protection is in place to prevent intrusion. PSI Technical Innovation Award nominee Sequrinet is a much welcomed addition to all concept pro recorders and via the use of Enhanced Password Control and a secure, heavily monitored European server, Videcon can offer a simple and effective solution to cyber security threats. Pop into the beer garden and feel free to pick our brains on one of the most hotly anticipated releases in the industry this year.
See you at the bar!