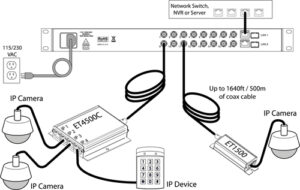 IP over coax solutions were a highlight of the NITEK stand at IFSEC as Manon Honders explained.
Even though the stand is packed away and we're back at the NITEK office, we're still enjoying the positive vibe from IFSEC 2017. As an exhibitor, the show was really productive for us, we came across new distribution channels and discovered a number of new, international business opportunities. We estimate that around 80% of visitors to our stand are potential customers.
There was tremendous interest in our IP over coax solutions. We offer a range of products that solve the most common issue – cost. By enabling analogue cameras and other devices to be upgraded to IP over existing infrastructure, there's no need to rewire for a renovation project. By using NITEK solutions you can re-use existing coax cabling and save money. And who doesn't want to save money?
With NITEK's IP over coax media converters we guarantee the same UTP speed and functionality over coax. 100Mbps full duplex – including PoE.
The 1-channel, EL1500C link comes with a small transmitter that can be integrated into a camera housing.
IP network extender transmits over coax up to 500m (1,640 feet)
Includes transmitter and receiver units
Extends PoE to transmitter and IP cameras/devices or network devices
Transparent to the network
No setup required
Environmentally hardened to meet NEMA TS-2 specifications
Patent pending USA and Europe Euro Pat App 2779641
The EL4500C link is popular for access control applications.
Supports 4 network devices, including mega-pixel technology IP cameras
IP Network extender transmits over coax up to 500m (1,640 feet)
Includes 4-port transmitter and receiver units
Transparent to the network
No setup required
Environmentally hardened to meet NEMA TS-2 specifications
Patent pending USA and Europe Euro Pat App 2779641