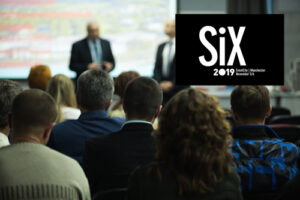 The topics for the free PSI seminar stream at the upcoming SiX event have been announced and for anyone looking to grow their installation business it looks like an essential selection
The PSI seminar stream consists of key information regarding the day-to-day running, growth and success of security installation businesses. Delegates will pick up advice on a range of subjects concerning staff, sales and finance to help develop their company performance and meet the demands of the modern environment.
Also covered will be the thorny subject of GDPR but for both the installation company and the systems being fitted. Independent experts will look at best practice for the business contracted to carry out the work and also for the customer who is processing the information.
This impartial free-to-attend series is aimed at the managers and owners of UK security installation businesses with the subject matter covering those topics raised by PSI readers as being of particular interest.
The presentations include:
Growing your service business 
It is surprising how little time is invested by business owners and management in the security sector in growing the service contract base and related income streams, when most of the profits and the value of the company are in the service area. The focus of this presentation will be on providing practical strategies to grow your service business.
Speaker: Jim Rathbone, Managing Director, Rathbone Results
Recruitment and retention
Your engineers are vital to the success of your business but how can you make sure that they want to remain with you? And if you do have a space to fill finding the right person for the job can be a tricky proposition considering the availability of quality installers.
Speaker: Brett Ennals, Managing Director, Cento
GDPR: everything you wanted to know but were afraid to ask!
A general session aimed specifically at questions and answers from delegates relating to general GDPR requirements what organisations should be doing that may have been overlooked or misunderstood. The speaker will answer questions from the floor relating to general enquiries, more specific enquiries relating to surveillance and CCTV and other forms of security systems, including digital recognition systems such as biometrics and facial recognition – also the role of DPO and compliance with user rights and DSAR requests.
Speaker: Ray Ford, Founding Associate and Data Protection Officer, GDPR Associates
Business opportunities through cyber security
Keeping a business secure against the ever increasing cyber threat is critical for any organisation. As Government and, increasingly, the private sector look to ensure a secure supply chain, this session will highlight how maintaining good cyber security can deliver real opportunities to gain and retain business.
Speaker: Chris Pinder, Business Development Manager, IASME
GDPR: Its Impact on Security and CCTV data systems.
This session is aimed at how to make sure your customers purchasing such systems understand their responsibilities on the use of the data captured and how to account for it under the new privacy legislation.
Speaker: Ray Ford, Founding Associate and Data Protection Officer, GDPR Associates
Recurring revenue
Recurring revenue is the life's blood of any business model and is the true value and worth of any security company. Find out how you can raise your standing with well-managed and developed recurring business revenue structure.
Speaker: Anthony King, Managing Director, Square One
Attracting new talent (sales and engineers)
With a widely acknowledged shortage of quality engineers and skilled sales staff, could one solution be to look to other sectors for future stars in addition to the security pool? Also, how can you make your company an attractive proposition for new employees and generations?
Speaker: George Zitko, Managing Director, Zitko Consulting
Finance options for growing businesses
This session will take a look at the challenges faced raising finance for small businesses, and give an overview of the different types of finance which exist for small businesses.
Speaker: Joshua Ejdelbaum, Director, ASC, Finance for Business
Exit strategies within the security sector
You have worked hard most of your adult life to build a successful security business, Now the time has come to decide how to exit or transition from your business. This may be the biggest decision you have ever faced. It is your opportunity to do it right with guidance. This is both an important personal event as well as a financial transaction.
Speaker: John O'Connell, Security Partner, Rathbone Results
SiX is being held on 5-6th November at Event City in Manchester. Register to attend SiX here