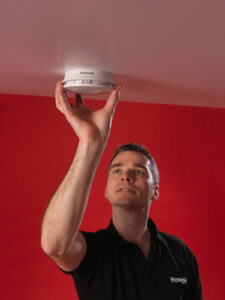 Scotland is to amend a 30-year-old law in order to increase protection levels in all properties across the country and Adrian Keats, from Honeywell's Home Safety business, is reminding installers throughout the UK of the importance of ensuring homeowners are adequately protected in their homes.
"The changes to the Housing (Scotland) Act will require all homes to have a minimum number of smoke and heat alarms, as well as a carbon monoxide (CO) alarm whether residents own their home, or rent from a social or private landlord. The regulations also specify a maximum 10 year age limit for all alarms, and require all alarm units to be interconnected.
"The key benefit of interconnected alarms is that they alert the homeowner to any hazard, no matter where they are in the house. This is because a linked heat, smoke and CO alarm network sounds every alarm in the home, alerting the homeowner to the danger even if they are out of earshot of the alarm which had recognised the problem initially.
"The homeowner is then able to ascertain which alarm has been triggered, because whilst each alarm will be issuing an audible alert, only the alarm that has sensed the danger will offer a visual indication.
"Although domestic fire and CO safety in England and Wales has improved, especially since the 2015 regulations, we would still recommend going above and beyond the minimum expectations whenever fitting an alarm system. For installers, offering high quality, reputable options to customers is a way of helping landlords and homeowners guarantee optimum safety without adding any extra complications to the installation process."