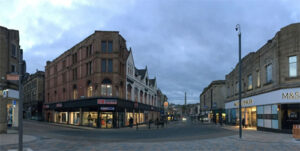 Siklu has revealed that its Etherhaul mmWave radios have been installed as part of an upgrade to the town centre surveillance network in Burnley.
The 18 high capacity point-to-point mmWave links from Siklu deliver interference-free connectivity for 40 newly installed HD IP CCTV cameras from Hikvision to provide fibre-like performance, low latency and real-time HD quality that is now enabling not only recognition but also identification. The new wireless network and new cameras are part of a mission critical Lancashire Hub CCTV Centralisation Project, which was designed to consolidate multiple control centres into a single location.
With the Siklu mmWave EH-500TX and EH-600TX radios, Burnley Town Centre can leverage the licence free and lightly licenced V-band to deliver reliable connectivity with 99.999% link availability by operating over the uncongested 60GHz frequency and using narrow beams which are immune to interference. The radios also support PoE out so that the Hikvision cameras can be wired directly into the Siklu radios eliminating the need for additional switching hardware. With the new infrastructure in place, Burnley Town Centre has improved its public safety and begun to build the foundation for a modern smart city.
The system was installed by OpenView Security Solutions (OSS).