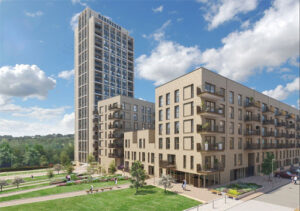 Lancroft has installed Comelit's ViP system in a residential development which comprises 286 apartments across four blocks, where fourteen 3one6 Sense digital panels have also been fitted at the entrances. Featuring a built-in colour camera, the IK08 rated 3one6 Sense series has no mechanical keys, using capacitive touch technology instead.
Residents at the Hendon Waterside apartments are able to communicate with visitors using Comelit's Smart monitors, which feature full duplex hands-free loudspeakers and 3.5-inch LCD displays. The monitors are flush-mounted to provide additional elegance, while contributing to the smart, contemporary interior décor.
The system's concierge feature enables the concierge to send messages to all, or groups of, residents, for example to give notice of maintenance work on the lifts.
The ViP system sits on the network as well as being connected to the site's 80-camera IP surveillance system. Being IP-based, the system is able to provide an unlimited number of users with simultaneous video and audio communications, while at the same time enabling remote connection and diagnostics.
The development will include a daytime concierge service, private fitness suite, rooftop garden and community hub service.