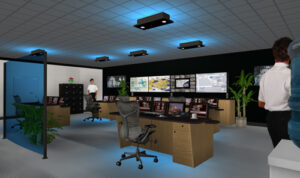 The technology partnership established between ISM and Wavestore has resulted in the integration of Wavestore video management software (VMS), with ISM's Genesys2 PSIM security management control room software.
The Genesys2 PSIM software offers a scalable solution for small single sites to multi-sited projects, irrespective of their location. Its ability to integrate products from multiple manufacturers into one holistic platform is enhanced when working alongside Wavestore's VMS, which is able to deliver video and audio data from any combination of analogue, IP, megapixel, HD, HD-SDI and 360 degree cameras and alarm data from associated sensors.
A key benefit of the level of integration achieved between the respective manufacturers' solutions is reported to be that pre and post events can immediately be displayed on an integrated video wall to provide control room operators with instant access to real time events. Security is therefore enhanced with the ability of operators to visually detect and pinpoint breaches across multiple sites.
"The interaction possible between our VMS and Genesys2 software provides systems integrators with an opportunity to capitalise on the projected growth in demand for integrated security management systems by harnessing the benefits that can be achieved from recent advances in IP network based video surveillance technology," said Chris Williams, Director of Wavestore. "With Wavestore and ISM working in harmony, users can take advantage of the benefits of deploying a PSIM platform to create a highly efficient control room environment which will allow them to effectively monitor and control all systems within their security infrastructure, and when necessary, manage an effective response to any incident, from a single screen."