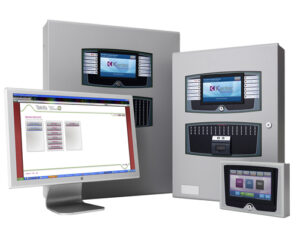 Kentec Electronics has completed EN54-13 approvals for the Taktis fire panel product line. The approvals were completed LPCB (Loss Prevention Certification Board).
Kevin Swann, Managing Director of Kentec says: "To those working within the fire sector, all will be familiar with the requirement for fire protection products and the need for them to be EN54 certified to the relevant standard. Almost all the standards in this series are related to individual product types and define the requirements and related tests for each component of the fire detection and alarm systems (FDAS). EN54-13 is a rigorous complete system test procedure that proves the compatibility of all the different individual components and that they work together as a system."
EN54-13 (Compatibility and connectability assessment of system components) was first published in 2005. In most European countries it is an essential requirement for FDAS. It is also a British Standard and is referenced in BS5839 part 1. It ensures that the fire detection and alarm system components are compatible and communicate with each other at the most critical stages of a fire alarm operation and where different component manufacturers (i.e panels , detectors, beam detectors, call points, sounders, etc.) test their equipment as a system and not as individual items.