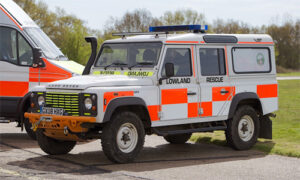 With over 2,000 people estimated to go missing in Surrey each year the county's search and rescue team is often on high alert. Servicing an area made up of nearly 80 per cent of rural land, Surrey Search & Rescue (SurSAR) needs to be equipped to be the first to respond when a person goes missing. This means the team needs to be ready to jump into action at any time of the day.
Séamus Kearns, head of operations for SurSAR, explained: "Our team is one of the busiest search and rescue operations in the whole of Great Britain and we're regularly called out to help search for missing people, including young children or adults, especially those who may be particularly vulnerable.
"We are lucky to have a range of resources, including search drones, vehicles and boats, available to help us move as quickly as possible, especially when time is crucial. In order to do this, we need to have instant access to this equipment."
The Key Safe Company donated a range of key safe products to the SurSAR, including its Supra C500 KeySafe and S7 Big Box KeySafe to provide a method of storing keys to vehicles and buildings that are required during emergencies.
Séamus continued: "We are made up solely of volunteers and rely on donations to help us carry out our work so we're grateful for the support offered by The Key Safe Company. It not only helps us significantly improve our response times but also helps to keep our operations moving as different volunteers can move vehicles around as required. It also means essential maintenance can be carried out whenever necessary and the real benefit to us is that codes can be changed or shared whenever we need them to be to ensure our equipment is never compromised."