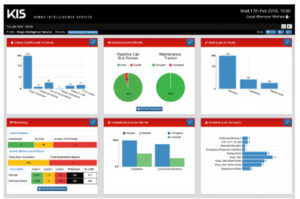 Kings Security has successfully attained a Europe-wide trade mark for its real time, online security intelligence tool, Kings Intelligence Service (KIS). Updates to the offering in the pipeline are likely to be announced in September of this year.
The latest release of KIS (version 1.5.0) brings features including:
Version 1 production release of quick incident 'KIS OneTouch' reporting app designed for Android that includes client branding, configurable incident report buttons, raising CCTV alarms, raising service calls, site / location map and site information (systems, URNs, key holders, contact detail) on demand
Incident management screen now displays unverified links count and messages sent count
Incident management records grid can now be filtered by 'unverified links' and 'messages sent'
See full contents of the incident details when you hover over the field incident management grid which updates every minute
New level 2 dashboards for maintenance and installations
New job installation record type with progress, dates, invoices, quotations and associated visits
New granular levels of access permissions for document management and vehicle management
New link search capability brings back people images and allows advanced filtering.
KIS as a trade mark was registered on 28 July 2016, in classes 9 and 42, with the European Union Intellectual Property Office (EUIPO), and will be valid for a period of ten years.  At the same time, the KIS strapline "Vision Without Boundaries" has also received trade mark protection.