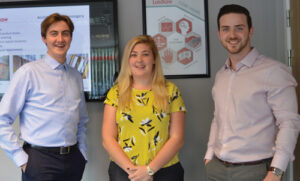 Laidlaw has launched its own graduate scheme with the appointment of Mathew Browne, Ellie Peters and Daniel Wilkinson, all of whom have started a six-month induction and training programme.
During this time they will undergo rigorous customer-focused sales training and work in all areas across the business.
On successful completion of the induction phase and complete the GAI (Guild of Architectural Ironmongery) Foundation Programme, they will be placed into key account manager roles within the business and go on to study for a three-year GAI diploma.
Peter O'Brien, Managing Director, said: "We have drawn up a very detailed and well-thought-out graduate programme, which forms part of our longer term plan to invest in new talent so that we can safeguard the future success of the business. It's an exciting development for the company and we will be providing as much support as they need to progress within the company."