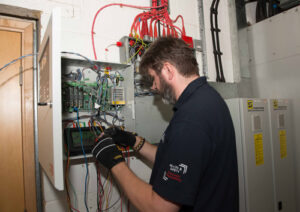 Static Systems has successfully completed a site-wide fire alarm upgrade and new system installation at Wexham Park Hospital.
Wexham Park Hospital is a large NHS hospital situated near Slough in Berkshire. The 588-bed hospital is one of three managed by Frimley Health NHS Foundation Trust. As well as the main hospital building, the site has a large Post Graduate building, ambulance station, staff accommodation and a new 9,300sq metre, four-storey Emergency Assessment Centre (EAC). The EAC, which is currently under construction and scheduled for completion by the end of 2018, will bring the hospital's emergency department, ambulatory care and assessment units together under one roof.
In February 2018, Static Systems Group was awarded the contract to undertake a phased upgrade of the Hospital's existing site-wide fire alarm in order to bring the system up to a category L1 open protocol system.
In addition to the upgrade, Static Systems was also tasked with installing fire alarm systems in the new EAC and Radiology & X-ray Department.
All upgrade work had to be undertaken in a live, fully occupied hospital environment and, at the time of installing the new systems, the Emergency Department and Radiology & X-ray Department were construction zones.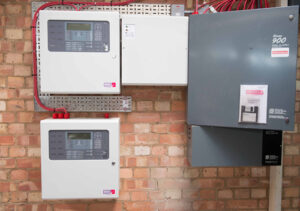 Before the upgrade project commenced, Static Systems was invited to take part in the early design and development discussions to explore options and identify how best to meet the Trust's requirements.  The company surveyed the whole site before producing the design in conjunction with the Capital Projects team and the Trust's Fire Safety Officer.
As Principal Contractor, Static Systems provided a site-based project management team and managed the entire design, supply, installation, testing and commissioning of its Evo2 fire alarm panels and Apollo fire detection. In total, 15 wards were upgraded, with 14 fire alarm panels and 14 fire alarm repeater panels installed.
Greg Forsythe, Project Manager at Static Systems, comments: "This project required us to work across a host of different live settings, from Intensive Care, Sterile Services and Radiology, to the mortuary and canteen. Our primary focus was delivering a seamless installation with minimal disruption to the everyday workings of the clinical teams. As such, we introduced a robust process for communicating information about the works to all relevant parties through the Capital Projects team, providing five working days' notice of our intent to work in each area of the hospital.
"As Principal Contractor, it's essential for us to have an on-site project management team which, on this project consisted of a Project Manager, a Commissioning Engineer and an Installing Supervisor, as well as additional office based project support."
Work is still underway with further extensions to the system planned for later this year. By the end of the eight month phased project Static Systems will have completed a full fire alarm system replacement.