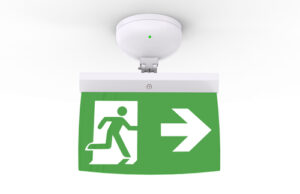 Hochiki Europe has launched FIREscape+, a system combining emergency lighting, fire detection and wayfinding technology. The new line features FIREscape emergency lighting system, as well as the ESP intelligent range of fire detection products. Combining the two ranges and creating dual function exit signs offers integrated life safety and wayfinding technology in one system.
In the event of a fire, dynamic emergency exit signs will illuminate with a red cross to prevent building occupants using an escape route compromised by fire. Meanwhile in unaffected areas, the exit signs will illuminate with BS EN ISO 7010 green graphics, to safely guide building occupants to the closest available emergency exit. This ensures that building occupants are given the best possible opportunity to escape; even if they are unfamiliar with the building layout.
The integration of Enhanced Systems Protocol (ESP) technology also offers a number of benefits when it comes to false alarm management. Every 24 hours, the system checks for any changes to the environment and recalibrates the sensors to suit. In addition, each sensor can be individually adjusted to match the expected risk of its environment, while alarm verification technology uses time delay algorithms to eliminate unwanted alarms.
FIREscape+ features a single panel controlling both fire detection and emergency lighting units on a single loop operating at extra low voltage without the need for mains power, further reducing the cost of ownership.