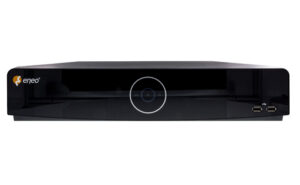 Eneo's new IER range of network video recorders comprises a series of 4, 8 and 16 channel models, handling up to 5MP resolution per channel, and a series of 16 and 32 channel models, handling up to 8MP resolution per channel.
"The IER recorders use Embedded Linux operating systems," explains Jussi Simonen, Business Development Manager for eneo. "They come with no built-in HDDs, opting instead for the flexibility of fitting SATA HDDs to order. These can be up to 8TB each, in one, two or four available bays, depending on the model. This means the 8MP series can have up to 32TB of internal storage, using four 8TB HDDs. A new WARP feature also allows one 'master' eneo NVR to monitor and control other NVRs to make up larger systems. CMS management software and a Smartphone viewing App all come as standard."
The three 5MP models, the IER-25R040004A, IER-25N080004A and IER-25N100004A, use H.264 compression, offer up to 8 Mbps data recording throughput, deliver between 10.5 and 8.25 watts PoE per channel, include Full HD HDMI and VGA monitor outputs, and include 4 or 8 alarm inputs and one alarm output per unit.
Higher spec, 8MP 16 and 32 channel models, the IER-38R160005A and IER-38R320005A, are 19" rack mountable, offer a choice of H.264 and H.265 compression, up to 10Mbps data recording throughput, 130 watts PoE budget, include Ultra HD HDMI and Full HD VGA monitor outputs and 16 alarm inputs and one alarm output.