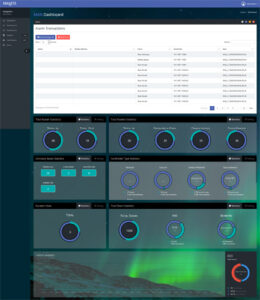 Maxxess has launched MAXDashboard DI, a solution for the live management, monitoring and verification of people in transit on big, busy sites and multi-site estates to proactively pre-empt security situations, optimise operational efficiency and help cut costs.
Designed by Maxxess, the solution combines multiple data inputs, including access control feeds, with big data intelligence, analytics and algorithms, to create customised displays with tailored filters that deliver dynamic live reporting about the movement of people on-site.
Data is continuously gathered from multiple sources then mined, processed and cross-referenced in real-time with a range of human behaviour patterns – both general and specific to individual profiles – to identify anomalies and trigger alerts about potentially suspicious or unauthorised activity outside the norm.
MAXDashboard DI is vendor-agnostic, so can be integrated with any existing security system and is available as a pay-as-you-go service.
Lee Copland, Managing Director, Maxxess, EMEA, said: "Conventional security monitoring is based on a reactive response to historic events. MAXDashboard DI completely disrupts this model. It puts the power of live, real-time monitoring directly into the hands of the organisation. By giving a customised views of the entire site, with the ability to drill down to the granular detail as it is needed, it instantly visualises how vital security and operational processes are working, while flagging what might require more attention."