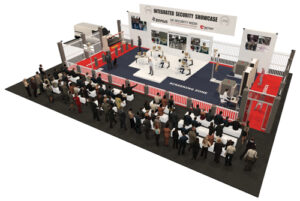 Organisers of Security & Counter Terror Expo (6-7 March at Olympia, London) have announced the launch of a live technology showcase for its 2018 event. The Integrated Security Showcase will feature a live security operations centre where visitors can see technologies, solutions and services in action, helping them to identify solutions that can be used in a variety of installations.
A carefully curated array of products will be displayed in the area, with facial recognition, hostile vehicle identification, cyber threat mitigation, intrusion detection, perimeter protection, CCTV, video surveillance and biometric solutions all working in harmony.
Among the suppliers taking part in the new Integrated Security Showcase are Bosch Security Systems, Custom Consoles, HARP Visual Communication Solutions, Frontier Pitts, Warrior Doors, Technocover, Fast Lane Turnstiles and Zenus Biometrics, who will each unveil their latest technologies, solutions and services.
David Thompson, Event Director, Security and Counter Terror Expo, said: "This new feature is an interactive learning environment designed to educate security system integrators, architects, consultants and end users looking to protect and secure critical assets from potential threats. It will offer exhibitors a chance to reveal the latest technologies live to an audience of senior buyers, while offering visitors an insight into real-time operations and the chance to discuss the ever-evolving range of threats, operational strategies and technologies to shape future policy."