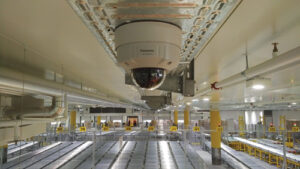 Galliker Transport & Logistics is set to use 500 Panasonic video surveillance cameras throughout its 18 branches in Switzerland. At the moment Galliker is using over 400 video surveillance cameras however, by the end of 2018, this is set to increase to over 500 cameras operating throughout the estate.
The company uses video surveillance primarily as protection for  buildings and goods, as well as for the optimisation of work processes. Video cameras also capture access to the grounds and buildings. With the porter being the initial point of contact for incoming suppliers, the video surveillance is used for the allocation of parking lots and ramps. The gates and barriers open automatically for Galliker's own and pre-registered vehicles when approaching the office site, which is triggered by means of LPR / ANPR.
All of the cameras record outside of the organisation, whilst being centrally managed  in one location based in Switzerland, which saves network bandwidth and time in IT integration. The entire IT infrastructure and support is managed by the IT department of Galliker.
Head of IT, Fredy Feurer comments, "We are very pleased with the Panasonic video surveillance cameras. In recent years, we have acquired a great deal of know-how about these products, but because of the more efficient installation and easier maintenance, only a few camera models are in use."
Galliker has opted for Milestone's video management system which allows for easy and fast integration of various camera manufacturers' devices. In 2013, Comtronic Communications introduced the first Panasonic cameras with Milestone software to Galliker.
Fredy Feurer adds, "400 cameras are in use and the number will increase to 500 by the end of 2018. The cameras have a long service life and a good price-performance ratio, and the video surveillance solution allowed us to streamline processes and simplify work processes. "