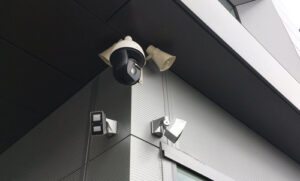 Motor dealership Lookers Motor Group conducted a review of its existing security systems and concluded that further upgrades were needed to maintain the highest level of protection.
Nabil Sunni, Security Manager at Lookers, contacted B&B Corporate Security Consultants (BBCSC), with whom he had worked previously, to recommend a solution that could be standardised across all of its sites. Andy Bromley at BBCSC proposed a multi-layered approach using a range of different sensors from Optex. Every perimeter is now protected by either wired or wireless infrared (IR) beams, or in some instances by laser sensors that create a 'virtual wall'. Intruders are therefore detected before they can cause any damage.
Each month, two new sites are assessed, and to date more than 20 have been upgraded with the new sensors. At one site in Ellesmere, 24 Optex Redwall SIP external detectors have been specified at the outer perimeter, integrated with PTZ cameras that are pre-set to locate intruders across the site. Should an intruder be detected, the cameras are triggered and the images instantaneously transmitted to a remote monitoring station to be acted upon.
As well as the long-range detectors, four Optex VXI short-range PIRS are also deployed to detect people at the edge of the building, while a further number of curtain sensor BX series detectors protect the building itself, detecting anyone near the showroom window or door. Again, all of the sensors are connected to CCTV cameras and monitored remotely.
Andy Bromley says that the new detectors replace what had previously been an expensive and complicated system to install and maintain. They are also more effective: "Managing the security for these sites was proving expensive and complicated, as they all had different systems from different providers and were maintained by many different companies which led to a fractionalised security approach," he says. "Security at car dealerships is exceptionally important, and by standardising the technology provided we have delivered a more robust, reliable and cost-effective solution."
Nabil confirms the systems installed are working well: "Our sites are quite complex with trees and flags swaying and many different people visiting, so quite a challenge to specify the right security system," he says.  "As no two sites are ever the same they all have bespoke specification – but using the same model of security systems each site has the same level of protection. We feel far safer in the knowledge that each site is well protected and completely secure."