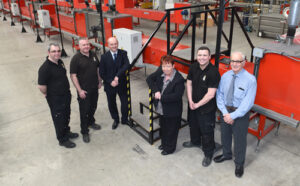 A Cheshire-based manufacturer of fire and security products is expanding its product range and targeting new work with £7m of funding from Yorkshire Bank. Ventcroft, the independent manufacturer of fire and security products, supplies to a client base in more than 50 countries from its base at Runcorn.
Yorkshire Bank has provided a total of £7m worth of funding, which includes the complete transfer of all banking facilities, to support the company's growth ambitions. The deal was delivered by Mike Scott, relationship manager at the Bank's Business and Private Banking Centre in Merseyside.
In the last year, the business has completed relocation of its production to a 100,000 sq ft factory at Astmoor Industrial Estate. Frank Rotheram, MD of Ventcroft said that as well as targeting new business in the Middle East, Europe and Africa, the company is also looking into developing other types of cabling.
He explained: "We work closely with our customers to create product ranges that meet, and even exceed their needs and are installer-friendly.  Yorkshire Bank's focus on supporting the manufacturing industry aligns perfectly with what we were looking to do. With the ongoing support of Yorkshire Bank and our loyal staff, together with the Director and Shareholder investments in the new site, we have the ability to grow our business progressively as the UK and European economies recover and become stronger."
As a manufacturer of soft skin fire and intruder alarm cables, Ventcroft has a series of new cable ranges under development with some due for launch later this year. These include a general wiring range and the expansion of existing fire cable ranges. Next month will see the rollout of 'NoShock', a recently developed life safety circuit protection cable which prevents accidental electrical shock from nail penetration.
Pictured are: (L-R) – Ian Rotheram (Technical Director), Andrew Groves (Operations Director), Mike Scott, Relationship Manager at Yorkshire Bank's Business and Private Banking Centre in Merseyside, Karen Jones (Financial Director), Stephen Berka (Works Manager) and Frank Rotheram (MD) at Ventcroft