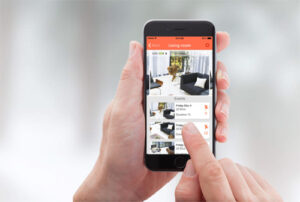 Manything has joined forces with Hikivison to provide a fully integrated security system that can be controlled and viewed from the palm of your hand. The Manything app has been developed to offer peace of mind giving users the ability to watch live feeds, access video stored in the cloud and remotely control their cameras from the smartphone app or from the Manything website.
The service can work alongside an NVR for additional offsite back up or remove the need for a physical NVR completely; instead users can easily save and view video content via the cloud. On top of that, installers and distributors of Hikvision cameras can initiate a new recurring monthly revenue stream by reselling Manything subscriptions to their customers.
Through a few taps in the iOS or Android app installers can setup a security camera network with no need for port forwarding or router configuration. All Hikvision cameras running Manything are non-discoverable and have UPnP and NAT disabled. When videos are viewed they are transmitted over an encrypted TLS or HTTPS channels. The system also intuitively adjusts frame rate, bit rate and resolution to ensure recorded events are sent to the cloud even in poor network conditions.