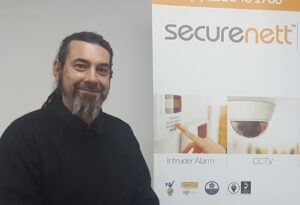 Craig Gwilliams is Operations Manager at Securenett Security Systems, based in Cradley Heath, West Midlands. Areas of expertise include bespoke design and installation of CCTV, access control and intruder alarms with accreditations such as NSI Gold, Work Safe Contractor, Safe Contractor and bsi.
Do you use a distributor or buy direct from manufacturers?
We use both as we find this gives us a better scope to cater for our clients' needs.
Is third party accreditation beneficial to your company?
Yes the third party accreditation is beneficial to us as our client base can be reassured that we work to a set of auditable standards.
What would be a typical project for you?
Rolling out intruder alarm installs for a major customer. Also on CCTV projects we find more and more customers requiring remote viewing on smart phones and tablets.
What would make your job easier?
A universal software application that has the capabilities to help aid the specification, design and implementation of any proposed system design regardless of product type.
Do you think there is a skills shortage in the industry? 
The industry definitely has a skill level shortage. Recruiting has been very difficult and it is hard to find skilled engineers.
Are there any common requests from customers that give you problems?  
No common requests that prove to be impossible as we always strive to meet our customers' expectations, but customers sometimes ask us to take a system over that we have not installed then frown when we advise they need a new panel as the previous company have locked the engineer code.
What is the industry's biggest myth?
That all CCTV systems hold recorded footage for 30 days, this spans from the days of time lapse tapes in the recorders, when in essence you should only keep footage for as long as necessary due to date protection laws.
Read the full interview in the January 2018 edition of PSI magazine