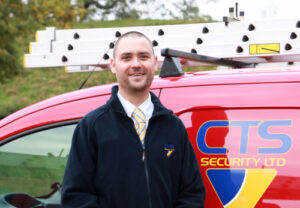 Darryn Faivelowitz is General Manager at CTS Security, based in Kings Lynn. Areas of expertise for the company include CCTV, intruder alarms, access control and fire backed by accreditations such as NSI Gold, BAFE, CHAS and NICEIC.
Is third party accreditation beneficial to your company?
Yes it is and I'm glad to see that the NSI appear to be more interested what they can do to support us today as well as auditing us. When I first came into the industry in the UK I noticed it was very well regulated and insurers were quite involved with the end user in terms of pushing the need for selecting accredited installation companies, usually NSI Gold. Accreditations are vital to us because there is certain commercial work that we wouldn't have got without it. Unfortunately as equipment is so freely available nowadays there are more and more people ready to install it, so the need for accreditation is even higher today. If you want to portray a professional image you need to be NSI Gold.
 What would be a typical project for you?
Our spilt is probably 60:40 for domestic over commercial but of course in terms of turnover that is not the picture. The majority of work we are doing is monitored intruder and fire alarms with a lot of CCTV for residential buildings however we do have a commercial project we are working on at the moment worth over £500,000.
What would make your job easier?
What I really like about this industry is that you come in each day and you never know what is going to happen. There is always a lot of firefighting in this industry, for example there could be a storm tonight which could completely change the calls we get tomorrow. Staffing issues at certain times of the year can be problem. Over the summer holidays when the schools are closed and people are away is naturally the time when the schools want any work doing.
Do you think there is a skills shortage in the industry? 
One thing we pride ourselves on is that we don't have a high staff turnover so we generally keep people, which means we don't have to go out hunting for new engineers. I think there are plenty of applicants out there but just because you can show you've been trained does not mean that you are any good. I get CVs every day, so to say there is a shortage of people is not quite true, but there is certainly a skills shortage.
Read the full interview in the September 2017 edition of PSI magazine