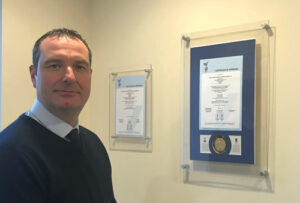 David Barnes is Managing Director at Black Box Security Alarm Systems. With a Head Office in Chorley and operations nationwide the company specialises in all aspects of electronic security and life safety systems boasting NSI Gold and BAFE accreditations.
Do you use a distributor or buy direct from manufacturers?
The majority of our purchases are through distribution; however we do have some direct accounts. We offer keen pricing to all our customers so this varies dependent on demand for specific systems.
Is third party accreditation beneficial to your company?
Most definitely yes, the security industry has been well regulated through NSI for over forty years. However, we have found that the introduction of the equipment-grading scheme has meant that lower level grades are more commonly requested than they were prior to this benchmarking.
This move has had an adverse effect on the quality of the systems especially with the signalling transmission unit. Prior to the introduction of grading most systems had a RedCARE/GSM or DualComm transmission device, which would now be equivalent to grade 4 signalling transmitter.
The insurance companies need to get a hold on this, and start specifying not only the grade of the system but also the grade of signalling device. Insurance companies now request grade 2 or grade 3, which are lower priced and, of course compliant, however standards should be driven by insurance companies and the monitoring device should be the equivalent of a grade 3 or a grade 4.
Regarding life safety systems, there is much work to be done here by the regulatory bodies and the industry in the way of education and benchmarking.
Even though a fire alarm system protects life, anybody can install a system and create their own certificate, which will be accepted by most insurance companies and local building control offices. We are very rarely asked for a BAFE/LPCB certificated system and after what happened at Grenfell and other residential buildings, we must act now and regulate so that all fire systems should have a BAFE or LPCB certification.
What would be a typical project for you?
We work across the public, residential and commercial sectors and so all projects are different in scale and requirements.
We are currently working on a number of large residential apartment blocks in Manchester city centre, however we also carry out works in a large number of education campuses, FM companies, blue chip companies, NHS buildings and a wide range of national retail outlets.
Read the full interview in the February 2018 edition of PSI magazine