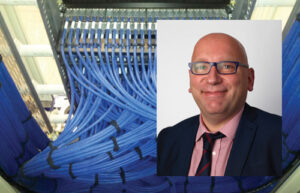 David Collins is the Senior Solutions Architect at NG Bailey. The company has 15 offices across the UK with a presence in EMEA and lists areas of expertise including engineering, facilities services, IT infrastructure and integrated IP security solutions. Accreditations are NSI NACOSS Gold, Investors in People, Investors in Diversity, Building Information Modelling (BIM), The Contractors Health and Safety Assessment Scheme (CHAS), RoSPA Gold, ISO 9001:2008.
Do you use a distributor or buy direct from manufacturers?
A combination. We ideally prefer working through channel distribution. Since we deliver IT infrastructure as well as security services, we prefer distributors to offer both, such as Anixter and Mayflex. However, specific security manufacturers don't always utilise distribution, so we have close relationships with surveillance and access control vendors that run incredibly rewarding partner programs. Sony is one such example, where we recently became a Gold Certified Partner, which gives us the benefit of joint marketing initiatives, as well as being able to offer our customers incredibly attractive pricing.
Is third party accreditation beneficial to you?
Absolutely critical.  Until 2012, NG Bailey subcontracted security installations, while at the same time delivering prestigious, highly complex IT infrastructure projects.  With the proliferation of IP security solutions and based on the quality of our IT services, we and our customers saw the benefit of NG Bailey as a single supplier for both IT and security. Achieving NSI NACOSS Gold gave us the credibility to do just that, plus it gives peace of mind and purchasing confidence to existing customers as well as potential new ones.
What would be a typical project for you?
When we started offering security services, we focused on the enterprise sector, particularly via the construction industry and concentrated on over 500 of our existing private and public sector customers. Our typical security project covers network implementation, surveillance (including analytics and VMS), access control, intruder, server storage, PA, and intercom tightly integrated into security management platforms, plus we also deliver civil works encompassing physical barriers, gates and fencing.
Our services comprise system design, installation, commissioning, nationwide maintenance and monitoring of IT and security from our dedicated Network Operating Centre (NOC), which has the proficiencies of an alarm receiving centre (ARC) as well as specialist IT capabilities.
We are passionate about truly open platform systems that futureproof customers' security investments.  We believe customers should be able to choose best of breed technologies. Closed protocol solutions either lead to rip-and-replace or expensively lock-in customers when they need to scale or adapt.  It's the flexible open platform systems that we're delivering for organisations where security is mission critical—for major enterprises, property management, high end residential, healthcare, leisure and major retail chains.
Do you think there is a skills shortage in the industry?
Absolutely. NG Bailey is addressing this with its own apprentice scheme.  We're proud to invest in excess of £3m a year in training and development. We currently have 130 apprentices training across 12 different programmes. In 2015 we were honoured to join the 5% Club; a select group of companies committed to increasing the number of apprentices and graduates in the workforce. We also work with a national network of dedicated and vetted service partners to address the current skills shortage.
Read the full interview in the September 2016 edition of PSI magazine